Although we would all love to do our fishing from a thirty-foot center console several miles out to sea, it is not really in the cards for all of us. Luckily, North Carolina offers some great fishing from a pier. If you are looking for a great spot to spend some time with the rod bent, here are our top choices for the best fishing piers in North Carolina.
North Carolina has a good bit of coastline, so be ready to make a few different trips if you plan on fishing on all of the piers in North Carolina.
Best Fishing Pier in Northern North Carolina: Nag's Head Fishing Pier
The Nag's Head Fishing Pier is more than just a fishing pier. This is a place you can spend some time eating, drinking, relaxing, and staying quite entertained. The Nag's Head Pier is very close to the Gulf Stream, so you get an excellent chance at some tremendous inshore fish.
On Nag's Head Fishing Pier, you will find a full-service tackle shop, a restaurant, and even a tiki bar. Of course, a pier with all of this going on is going to cost you a few dollars. If you are looking to take a look at the action, the sightseeing fee is only two dollars; once you have your rod with you, the cost will go up closer to $15.00 for a daily pass.
If the Nag's Head Pier appeals to you, there are a few cottages you can rent that will allow you easy access to all that the pier has to offer. Overall this is a great place to enjoy some fishing and a great meal as well. This is certainly not a sleepy small town carolina pier.
Best Hatteras Island Fishing Pier: Avon Fishing Pier
If you are in the Hatteras Island area, you are not going to want to miss the Avon Fishing Pier. The Avon Pier is 600 feet long, and this is a serious fishing spot. Or course, you can catch a variety of fish at the Avon Fishing pier, but perhaps the most well known is the red drum.
In fact, in a record size red drum (94 pounds) was caught about two hundred hards from the pier many years ago. If a 94-pound red drum doesn't get you excited about fishing on this pier, then nothing will.
The pier is a relatively simple design, but there happens to be an 18 hole putting green right next to the pier. You will also enjoy the snack shop and tackle shop to help make your fishing experience that much more convenient and accessible.
The Avon Fishing pier is undoubtedly worth a shot if you are looking for a bit of action while in the Hatteras Island area of North Carolina.
Best Crystal Coast Fishing Pier: Oceanana Fishing Pier
The Oceanana Fishing Pier is located in the Atlantic Beach area of North Carolina. This is a 1,000-foot pier that is very active thanks to the hotel and resort built around the pier. There is a bar and restaurant on the pier if fishing is not your thing. Let's face it; if you are reading this, fishing is probably your thing.
The pier also has a tackle shop should you forget anything while you are out fishing. If you are staying at the motel, you get a free fishing pass in the offseason. The complimentary passes are a nice benefit to staying close by if you are planning on trying to get some fishing time in on fishing piers in nc.
If you are in the area and want to try the Oceanana Fishing Pier, you can even rent a rod and reel. A daily pass is going to cost you around $12.00, but there are weekly passes available that save a bit of money.
One of the things we love the most about this pier is the ability to fish 24 hours a day. That is not always the case, and for some people, 24 hours is not even enough time when It comes to fishing.
Best Topsail Island Fishing Pier: Surf City Ocean Pier
Our favorite fishing pier in the Topsail Island area is the Surf City Ocean Pier. The Surf City Ocean Pier is a bustling and well-known place in the Topsail area. You can visit the tackle shop, purchase some bait, grab a burger from the grill and sit outside and enjoy watching everyone reel in some great fish.
The pier itself is 937 feet long. What we love most about this pier is the large 40-foot octagon at the end. This shape makes it so much easier to accommodate extra fishermen, all working towards the same goal.
There are two large fish cleaning stations so you won't have to worry when you reel in your catch, you will have running water and everything. If you like fishing at night, you will love the light on the pier that makes baiting your hook a breeze. The combination of the surrounding lodging and entertainment makes this one of the best North Carolina fishing piers.
The Surf City pier is a historical and well-known spot that is certainly worth a visit if you are in the area. There are all sorts of packages available if you live locally and plan to fish the pier often; if you are looking for a daily pass, it will run you around $10.00. To find the pier when staying in surf city search fishing piers near me.
Best Fishing Pier in Southern North Carolina: Sunset Beach Pier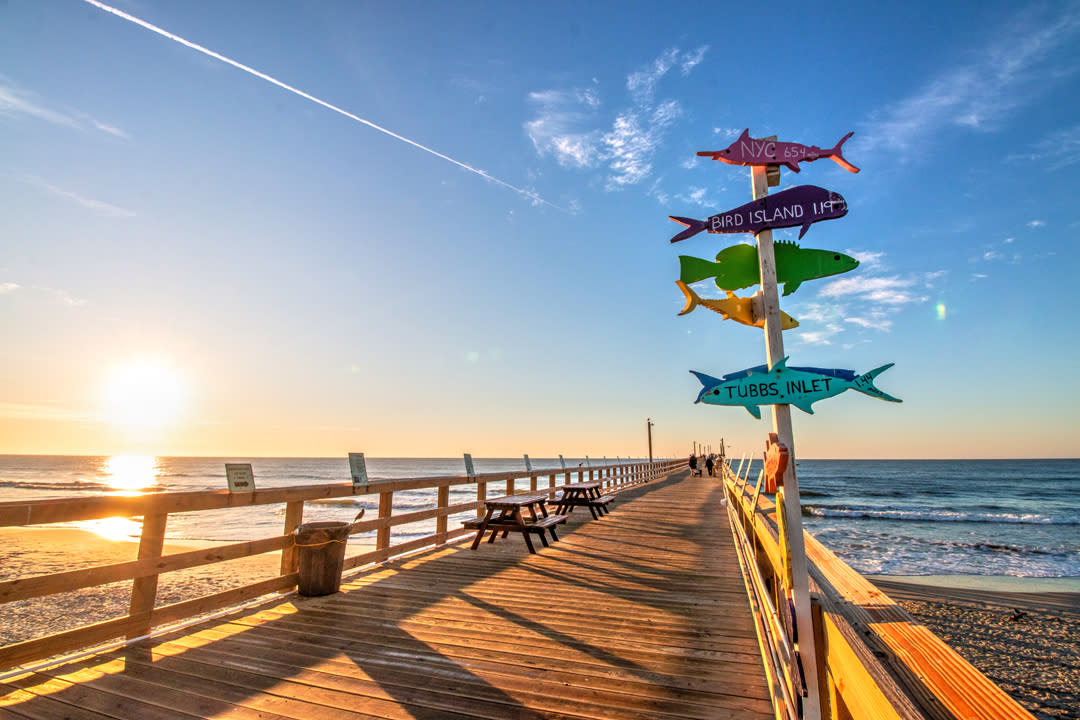 The Sunset Beach Fishing Pier is the best stop if you are in the southern part of North Carolina. The Sunset beach pier has been known to help fishermen hook some Flounder, Trout, Black & Red Drum, Sheep Head, and King.
You can purchase live bait while out on the dock, and a day pass is going to cost you about $10.00. There are great deals on annual passes and even a contest where they give away a yearly pass. We love the family-friendly feel of the Sunset Beach Fishing Pier and the enthusiasm about teaching kids to fish.
If you want to grab a bite to eat while you are out there, the bar and grill have a great sandwich. This is a must-see fishing pier in the southern part of North Carolina.
Honorable Mentions
Although these North Carolina fishing piers did not make our top five, here are a few other great spots to check out.
Ocean Isle Beach Pier
Ocean Crest Pier
Johnnie Mercers Pier
Questions To Ask Before Heading to The Pier
Before you set out for your day of fishing on the pier, here are a few things to consider.
Do you need to bring bait, or is their a bait shop?
What is the cost per rod to fish?
What are the hours of the pier?
Is the pier only open seasonally?
Are there lights for night fishing?
How will you transport your gear?
Do you need a fishing license?
Let us know which carolina pier is your favorite! Chances are one of these piers is going to become your new favorite spot for an afternoon of fishing.